There Are Reasons for Bitcoin's Explosive Growth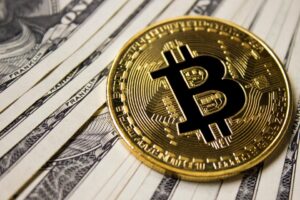 Traditional economists and financiers disparage crypto currencies and in particular Bitcoin at every opportunity. They have bet their careers on fiat currencies and trading in stock markets. It is not in their interest to acknowledge that their world is crumbling beneath their feet. The major hedge funds and investment portfolios, however, are increasingly accepting the inevitable and moving into Bitcoin in greater and greater numbers. Recently the Guggenheim Fund announced it will place up to 10%, or $530 million, in Bitcoin while MassMutual has bought $100 million. What the traditionalists refuse to admit is that national currencies, including the 'almighty' U.S. dollar and other fiat currencies, no longer hold any trust by the public. Inflation steadily reduces their value. In my lifetime I've watched the American middle class relentlessly striped of assets by this pernicious, undeclared tax on their hard-earned wealth. The dollar is no longer backed by anything but the "Full Faith and Credit" of the U.S. government. "Full faith." Can anyone paying attention to our government see this as anything but a joke? What "full faith"? When in recent decades has Washington D.C. kept faith with the American public? And as for "Credit", well, the Treasury just prints and prints and prints, borrows and borrows and borrows. How long can the concept of "credit" hold any genuine meaning? Since the creation of the Fed, the dollar has simply fallen relentlessly in value. And it will continue to do so, almost certainly at an accelerated rate given our recent reckless deficits.
There is a saying in crypto circles. "As the dollar has no bottom, Bitcoin has no top." The dollar can fall to virtual zero as so many other fiat currencies have, and in our lifetime. Since the creation of the Fed its devaluation has been national policy. Bitcoin is designed to work in the exact opposite. It is structured to rise in value. Only 21 million of them will ever exist. As demand increases, which it is, the value will simply go up and up. One form of currency is designed to fall in value, the other to increase.
Traditionalists question why anyone would have confidence in a cyber currency owned by no government. Those of us invested in Bitcoin wonder why anyone today can have confidence in any government fiat currency. They are backed by nothing but lying governments, supported by economists who make their careers by advocating continued involvement in these failing instruments. No government controls Bitcoin and never can. For now most who buy it do so as a speculative investment. But in time, and likely only a few short years, the hedge funds and the like will have bought most of it, driving its price up to levels no one knows. One respected prediction is $1.2 million within five years. Just this week the CEO of BlackRock which oversees more than $7 trillion predicts Bitcoin will supplant gold as the preeminent store of value. Bitcoin is already a permanent asset, safe from inflation and government interference. Soon its noted volatility will be a phenomenon of the past and those who have been wise enough to retain a portion of it will have financial security for life. The writing is on the wall, for those willing to see.
To learn all about it read The Bitcoin Standard.