The Global Warming – Climate Change Hoax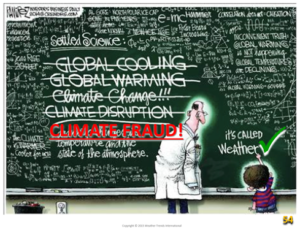 I suspected the argument for people changing the world's climate was a hoax when the media made the big switch from the hysteria about the coming new Ice Age to a new hysteria about the end of the world from over heating. The switch was very abrupt. Then the proposed solutions had almost nothing to do with the claimed problem. All they did was increase government control over our lives at all levels and increase our taxes.
Climate is always changing. The weather during the twenty years of our youth does not necessarily represent "normal" climate, if such a thing exists. The world is always getting warmer or colder, the same for wherever you grew up or live now. When the global warming extremists ostensibly abandoned the term "global warming" they'd so fervently embraced for decades and substituted "climate change", which could mean almost anything, I knew they were liars and just so many political activists. Interestingly, when it serves their immediate aim they instinctively revert to "global warming". Habits are hard to shake, especially bad ones.
My belief it was all a hoax was enhanced when the so-called experts were caught lying by falsifying data and releasing heavily skewed charts that cherry picked dates to support their cause. If reality is on your side you don't have to lie. Perhaps being a former judge made that an easier decision for me than for others.
As I see it, mankind is slowly destroying the planet, but we aren't doing it with CO2 gas. There's no correlation between it and an increased global temperature.
We are destroying our home planet with plastic and with the pervasive use of toxic chemicals in the products we use everyday as well as by the continued industrialization of our food. There has been no need to artificially reduce fertility with vaccines, if that's what's occurred and I suspect it has, because our steady poisoning of ourselves has lower sperm counts into the species extinction level.
Sadly, I see no prospect of meaningful change. Too many companies make too much money from destroying mankind to stop. Just as the Romans slowly poisoned themselves with the wide use of lead we are going down the same road. We never learn.
Read this to learn more: Watts Up With That?