EXPAT LIFE IN CUENCA, ECUADOR #2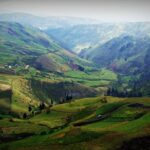 One of the major changes for North Americans [I use this term as about 10% of expats here are Canadian] have in adjusting to Cuenca is the food and eating habits. Ecuadorians eat virtually no breakfast, either nothing or perhaps a role and cup of coffee. Dinner is little more than a snack, often corn bread much like the outer layer of chile releno in the American Southwest and again a cup of coffee. The main meal is in the middle of the day, served between one and three in the afternoon. Expats typically show up at noon and often have to wait but more restaurants have become accustomed to our strange habits and are ready serve so early a meal.
The midday meal is called the almurezo. It consists of a watered down fruit drink, a wonderful and large bowl of soup, rice, a very small dinner salad, then either fish, chicken or beef in a small portion. In some cases you'll get a modest dessert. The price runs between $2 and $3.50 with the dessert more likely at the higher end. This is not gourmet cuisine but I've never had an almurezo I didn't enjoy.
Quality food in South America is to be had in Peru which has made it a matter of national honor. The best meal I've eaten in SA was in Cuzco, in a restaurant interestingly enough run by a German. I had two excellent meals in Buenos Aires but my single meal in Lima was very good if not better than these. Expats returning from Lima though universally praise the cuisine. The Ecuadorians do an adequate job but that's about it. The high end restaurants however are excellent though they charge North American prices.
Our doctor advised us when we first arrived to change our eating habits and so we have. I can scarcely eat a full dinner these day having eaten my main meal at midday. Most expats eat both and you see them trudging around thirty or forty pounds overweight.
Food costs here are roughly one third what they are in the U.S., even less if you frequent the mercados which we do. Nearly all the food consumed locally is raised within ten miles of the city. No GMO or antibiotics are used. The quality of the vegetables is outstanding. You'll recover the taste of a real tomato and of potatoes. Chicken is excellent. I like the beef but there are no feed lots so it's a bit chewy. Fish I avoid as it is trucked up from the coast or grown locally with mixed results.
I consider the quality of food here to be one of the great joys in living here.